This Delicious American-Made Soju Is Low-ABV with No Added Sugar for Easy Drinking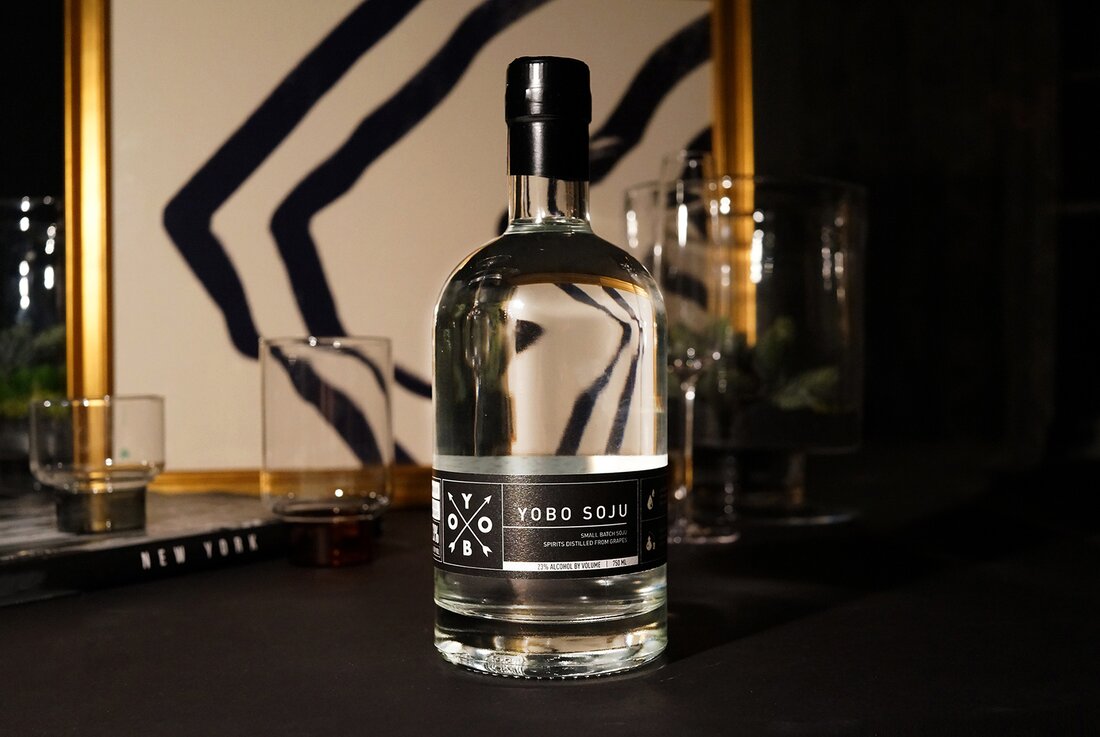 Eating Well - This Delicious American-Made Soju Is Low-ABV with No Added Sugar for Easy Drinking
A self-described "lawyer-mom," Yobo Soju founder Carolyn Kim and her husband, James Kumm, are making their mark in American soju—and doing good in their community by donating proceeds to help restaurants and food services impacted by COVID.
When you first open a bottle of Yobo soju, be prepared for a juxtaposition of the senses: on the nose, Yobo makes a heady statement with floral notes and sweet sticky fruit, like ripe pear, banana and lychee. On the palate, however, the experience is more subtle, smooth and light, with a slight prickly mouth burn that is distinctly soju. That expression of contradictory yet complementary qualities is part of what makes Yobo so unique and, in many ways, expands to more than the drink itself.
Soju is a Korean spirit traditionally distilled from rice (it can also be made from other grains, as well as sweet potatoes). But Yobo, one of the few American-made soju brands currently being produced here in the States, is made from grapes grown in upstate New York. "You wouldn't expect a handcrafted soju to be made in New York from local Finger Lakes grapes," founder Carolyn Kim says on the brand's website. "But you probably wouldn't expect a lawyer-mom to be behind it all either."
Kim started Yobo Soju in 2015 partly to fill a personal need: she was a working mom of twin toddlers, who wanted a drink that she could enjoy any day of the week and still be able to function the next day. "When my kids were 2 years old, times were tough … I'd come home from work and, to take the edge off, I'd have a drink."
Kim wanted to create something that was good quality, kind to her body and paid homage to her Korean roots. Soju generally has a lower alcohol content than other spirits. "It's clean, easy to drink and accessible for most folks," Kim says. After many late-night conversations with her husband, James Kumm, the idea for Yobo came to life. "We set out to do something a little different, something that builds on tradition," she says.
"Yobo" in Korean is a term of endearment—mostly between married couples—like "honey" or "sweetheart," which is a nod to those early conversations with her husband. Also, Kim says, soju is something that you can enjoy with family and friends gathered together, and that word just exudes that idea.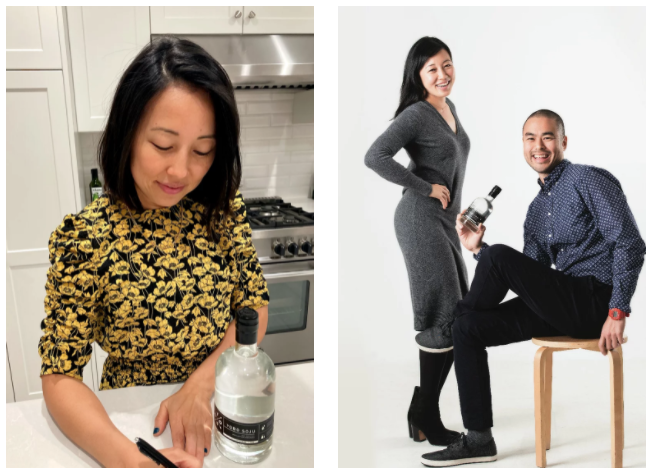 They partnered with Finger Lakes Distilling in upstate New York to develop their soju from locally grown catawba grapes. Catawba is a red grape that has grown in the Finger Lakes region for centuries. Kim says catawba grapes are perfect for this project, because they are readily available in New York, locally sourced and they grow well in the region. They're also robust and fun, providing those pretty aromatics without needing to add any additional flavorings.
"In terms of base ingredients, you're not going to see another soju made with grapes, so it's not your traditional soju," Kim says. "But I would make the argument that most of what you see in the marketplace is not traditional, even though it may be Korean-made. They're made from all sorts of base ingredients." She says there are more-traditional sojus on the market like Brooklyn-based Tokki Soju, which is made from rice, but most producers have moved away from that.
"You have these existential conversations about 'What is soju?' 'Who's allowed to make soju?' 'What does it mean to be Korean American?' It's unearthed a lot of that, and heated debates even within our family," she says.
While, as with all spirits, the FDA does not regulate what goes into soju, Yobo is more transparent about what goes into their soju: it's made with just grapes, water and yeast—no sulfites, preservatives, additives or sugars are added. Yobo is also gluten-free and low-calorie (36 calories per ounce versus, for example, 65 calories per ounce of vodka). Yobo contains 23% alcohol by volume (ABV), while a typical ABV for vodka is in the range of 35 to 46%.
What's the Best Way to Drink It?
A lot of people will drink soju straight (chilled)—with or without food—or mix it into cocktails, just like you would with other spirits like vodka. Mixing soju with yogurt drinks is a popular trend in South Korea. Kim likes to enjoy Yobo straight on ice, as well as these fun soju cocktails:
Soju Seltzer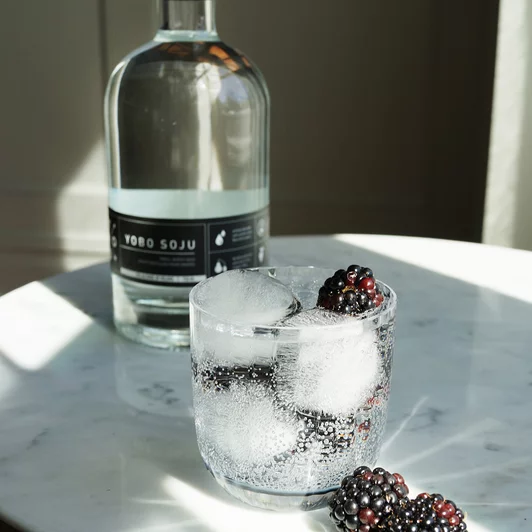 If you've never mixed soju before, try starting here. Fill any glass with ice and add Yobo, seltzer and a squeeze of lemon or lime. You can't go wrong with this one.
Blackberry Sokito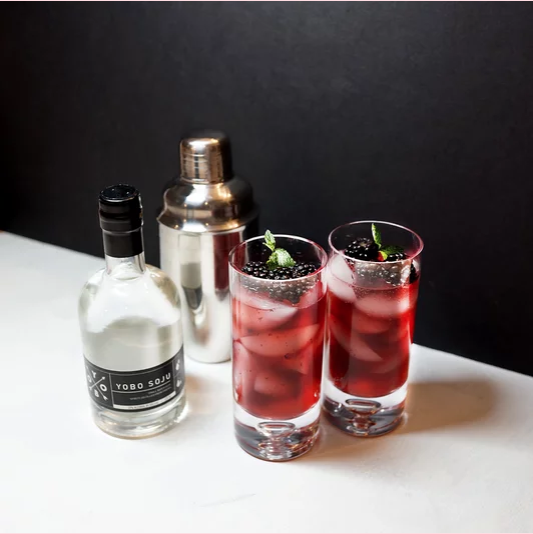 Muddle 5-6 blackberries with 1-2 ounces simple syrup, 4 mint leaves and 1 ounce lime juice. Strain the pulp and stir the juice over crushed ice with seltzer and 1-2 ounces of Yobo. Enjoy!
Yogurt Soju Cocktail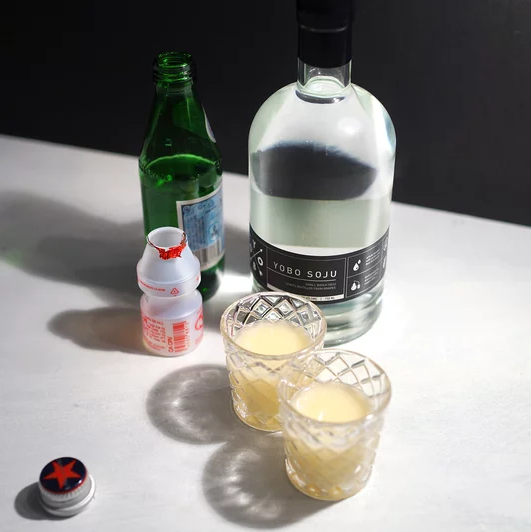 If you're curious about soju trends in Korea, then you need to try a yogurt soju cocktail. It's made by mixing one part yogurt drink such as Yakult (this one might require a grocery run to an Asian market, though it's increasingly available at mainstream grocery stores and even at Walmart), one part lemon/lime soda or seltzer and one part Yobo.
Because soju is light and neutral, it pairs well with spicy and more flavorful foods: Korean food and Korean barbecue, of course, but you can also enjoy it with pizza, tacos and Thai food. It's also great on its own.
Traditionally, there are customs for drinking soju that include filling each other's glass, holding the bottle properly when you pour and turning away when you drink. While Kim and Kumm don't condemn those traditions, they want to move in another direction. "The Korean culture is still heavily rooted in patriarchy in the family," Kumm says. "And also in this hierarchical structure in the workplace, where … there are all these nuanced drinking customs. But as Korean Americans, we largely don't participate in that. And especially with Carolyn as a woman. I mean, try to find a Korean woman that works in soju. There are very few, if any, that aren't the pin-up girl, who are actually at the forefront of the brand. I think we naturally reject those things. And they're barriers of entry for people to drink."
The soju tradition that they do embrace: the spirited community of close friends and family coming together and sharing the bottle.
Helping the Community
Kim is quick to point out that, while working on Yobo has been incredibly fun and rewarding, being a lawyer is her No. 1 passion. "Being a lawyer came from a place of wanting to help people and going to law school was very intentional in terms of having a tool to be able to help," she says.
In January and February of this year, Yobo donated 100% of all proceeds to relief efforts for restaurants and food services impacted by COVID through Rethink Food.
They are also using their platform to raise awareness about anti-Asian violence and bring attention to organizations working to fight Asian American discrimination. Kim says taking action needs to be a multifaceted approach: supporting Asian American businesses, restaurants and your local Chinatowns and Koreatowns, supporting grassroots organizations like the ones listed on their website and educating yourself on the issues.
What's next? Kim says they're constantly in conversations, figuring out how they can use their platform to draw attention to important issues and also to support monetarily when they can.
"When Carolyn first wanted to start this project, I was the biggest naysayer in the room," Kumm recalls. "I was like, 'Come on, we have little babies, I'm going crazy and you want to start something on top of your job.' But she just kept going and now I'm her biggest cheerleader and I'm so impressed by her. The product could have grown a little faster than it has. But I'm very proud that she's never lost herself in that."
"Anything we do in the Yobo space has to feel authentic to me," Kim says. "I'm not going to say this product is going to solve all the world's problems, but we're doing what we can to help communities."
View complete original article by Penelope Wall on Eating Well: https://www.eatingwell.com/longform/7897029/yobo-soju/